"Alright, I'm going to take a washroom break at the 10k mark, grab some water, and slowly get back into the race."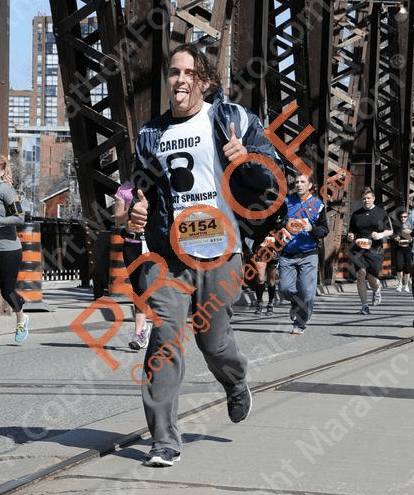 That's what I told myself as I started running. The washroom break never happened. I found that it was easier to keep on going than to stop. So I just went. I didn't sprint or get too out of control. I just ran at my own pace with my tunes blasting. I got pumped by the thousands of spectators cheering us on. I enjoyed some free water and Gatorade.
Somehow, I managed to complete the Scotiabank Toronto Waterfront Half-Marathon (that's 21.1k if you're wondering) with pretty much no training or prior experience.
The furthest I ever ran before was a 10k in May 0f 2013 and a 5k the week before that. I've also been running from commitment forever.
The finish line was beside the hospital that my brother was staying at. He had just gotten out of the ICU for open-heart surgery, so there was no way I was going to give up on something as simple as running.
I also paid for a custom-made shirt. I couldn't stop running. I didn't want Kettlebell Rebels to be associated with an embarrassment.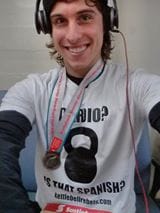 [Shirt says: Cardio? Is That Spanish? kettlebellrebels.com]
How did my run go? Why was I an idiot?
My time isn't anything to brag about. It took me 2:16 to complete the 21.1k.
I don't have anything to compare this to because I've never run that far, so I can't say if it's good or bad. I do know that I want to be under two hours next time though. I'm sure that if I pushed myself, I could've done it this time, but I didn't want to risk any injury.
I'm proud to say that I didn't stop once. I just kept my breathing under control and moved the whole time.
Why was I an idiot?
Because I didn't train properly or do anything the right way, I barely slept the night before because I was up until 1 am watching the UFC show.
Long distance running is a serious sport, and I treated it like a leisurely activity.
Should you train?
Yes. Hell yeah. You need to train. You need to prepare in advance, You need to work on your breathing.
Here's a pro running scoop: the training will help you more with recovery.
You can wing the actual run. You're going to be in pain the next day.
You need to build your tolerance up so that the next day isn't pure torture. As I write this, I can proudly say that the following day I couldn't walk, but I stumbled my way to BJJ to do some active recovery. This pain won't go away for a few days. But I'm not here to feel sorry for myself.
Why bother with running a half-marathon?
To see if I could do it because it's fun to see how far you can push yourself mentally and physically.
Why the hell did I do this? Why even bother?
Personal challenge!
Have you challenged yourself lately? Have you stepped out of your comfort zone? Trust me, it's incredible. You must get out there and push yourself outside your comfort zone. Stop being so afraid.
It's essential to have goals.
The point of this site is to treat the world like your gym and to get results without leading a crappy lifestyle. I highly suggest that you set some goals and go after them. If not, you're just going to be bored. Boring folks are not accepted here.
Random thoughts on running this half-marathon that you can apply to your life.
1. It's easier to keep on going.
Momentum is powerful! If you train your mind, your body will follow.
At the 2k mark, I was feeling amazing and ready to take on the world.
At about 8k, my feet were ready to give up. I was ready to stop and just run.
At the 10k mark, there was a band. I couldn't stop running. The spectators were cheering like mad.
At 11k, I smiled proudly because this was a new record. I had never run further than 10k in my life. I threw my hands up in the air.
At 13k I was happy to still be in the race.
At 15k, I was debating giving up.
At 18k, I realized I was so close to the finish.
At 20k, I saw thousands of people and I just couldn't stop. I started to pass people and slap hands with everyone.
At 21k, I smiled like a kid on Christmas Day because it hit me that I had accomplished this goal.
Post-race, I loaded on water, Gatorade, and free protein bars. I even took some home for my family. Hey, I paid $100 for this race!
2. Please don't waste time.
It's never worth being a little bitch. Try something new in life. If you keep on doing the same things, you'll keep on getting the same result.s
You can't get mad about the results you didn't get with the work you didn't do.
That's how an idiot survived a half-marathon. It wasn't easy, but it was totally worth it. I guarantee you that you have it in you to accomplish something bold.
What are you going to do to push yourself? How will you step out of your comfort zone this year?
"It is not because things are difficult that we do not dare, it is because we do not dare that they are difficult." ― Seneca