Are you struggling with your fitness goals? You can't get your eating down right? You missing too many workouts? You feel like things are totally slipping away and that your goals are impossible?
That's okay! I have five quick wins for you to get you going in the right direction.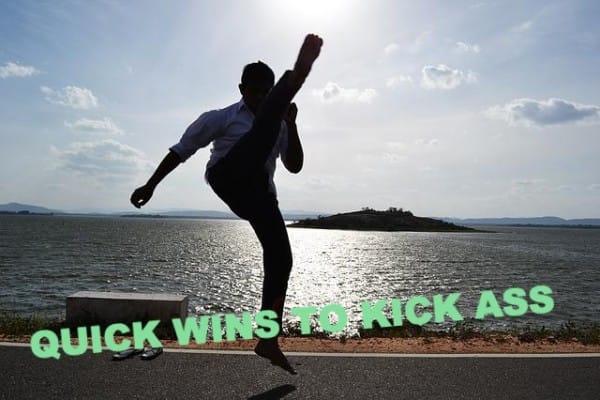 It was an oddly warm evening in November of 2008. I just came home from a jog in the park. I felt amazing. I felt on top of the world. I was the smallest (in terms of muscle) that I had been in a long time. I wasn't as pumped. I wasn't as muscular.
But guess what? I didn't care. I was happy with my routine at the time. I was doing mainly body weight stuff with lots of cardio.
Over the years, I've done many different things when it comes to my personal health:
I tried all sorts of diets.
I tried every single workout under the planet.
I tested out various supplements.
You know what I learned?
Small changes make a huge impact.
You don't have to do things perfectly all of the time.
You just have to do the right things when it matters most. Fitness isn't about maximum efficiency. It's about slowly getting better with things while you improve how you feel.
You need some quick wins to help you gain momentum. From there, you modify as you please.
What are these five quick wins?
Win #1: Plan a cheat day.
Do you eat crap here and there? Is your eating just out of control? Do you crave pizza?
That happen to the best of us. Don't let it stress you out. All you need to do is plan a cheat day for the future. This is one day where you will snap and eat everything/anything that happens to be on your mind.
There are no boundaries on this day. You just snap and eat what your heart desires.
The only catch? You have to wait for this day to pig out.
I suggest that you keep a list of all of your cravings.
Win #2: Drink more water.
You need to drink water. Duh! You already know this. And I don't mean to be an obnoxious jerk. The thing is that most of us simply aren't hydrated well enough. We need to drink more water, at the right time.
When should you really be drinking water? All day! Don't let yourself get dehydrated.
Win #3: Sleep more.
Are you getting in enough sleep? Are you always tired?
Sleep deprivation is a killer. I won't get into it here, but sleep ruins your judgment and leads to poor decisions when it comes to your food choices. You also can't really train hard when you're running on fumes.
Get some more sleep! Go to bed earlier. Get off Facebook.
Win #4: Add more protein into your day.
You're not getting enough protein.
I know this for a fact. Why do I know this! Because most of us will have one protein shake a day and then think we're good for the rest of the day. That's not how it works. You need to build those muscles and help them recover.
Get more protein in your system.
[Read: how much protein do you really need?]
Win #5: Do three simple exercises next time you can.
Squat, pushup, and pullup.
Do these. Don't worry about frequency, style, or anything like that. Just focus on getting these exercises in. Bust out pushups whenever you have some time, hit some squats when waiting for the elevator, and pullup off any thing that you find.
These three powerful exercises alone will do a lot for you. Just get into the habit of adding these to your list of habits. You'll become addicted to such simple exercises.
Don't stress about bicep curls and other useless workouts. Become stronger with these!
[See what the experts said about the best bodyweight exercises.]
Five quick wins! Choose one and win wisely.