"I missed breakfast and my day was ruined."
One of my buddies was stressed about missing breakfast. I laughed because I can't remember the last time I actually had breakfast (around 2012).
There are so many rules, theories, and unanswered questions when it comes to the timing of your actual meals. I wanted to help you figure out how to set an intermittent fasting schedule.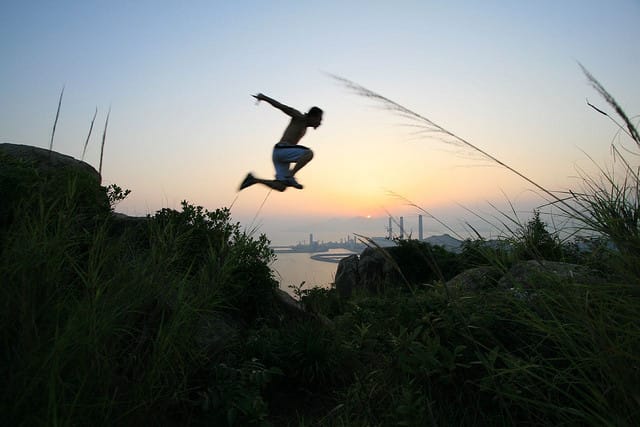 You're supposed to eat breakfast because it's the most important meal of the day, right?
What about intermittent fasting?
How far apart should your meals be?
Can you eat before bedtime?
Do you really have to wait 4 hours to eat again? Seriously? I'm still hungry.
It's too damn confusing. I'm here to help you ditch traditional fitness rules so that you can live a better life.
Meal frequency? How does it work? Let's go over a few common strategies that I have tried because I just couldn't avoid the hype.
The slow-carb approach.
In the 4-Hour Body, Tim Ferriss believes that your first meal of the day should contain 30 grams of protein. Ferriss believes that your meals should be four hours apart.
For example…
10:00 am breakfast.
2:00 pm lunch.
6:30 pm small second lunch.
10:00 pm dinner.
His meal plan is a mix of proteins, legumes, and vegetables. The goal with every meal is to mix those food groups and to eat until you're satisfied with how you feel. You shouldn't leave a meal starving.
His general rules are to avoid white carbohydrates, eat the same meals over and over, avoid drinking calories, avoid fruit, and a take one day off per week to go wild.
This is the easiest diet/meal timing plan to get started with because it's simple.
Ferriss believes in simplicity. He doesn't try to throw out esoteric terms or to confuse us. He gives us a list of food to eat and then let's us experiment on our own. If you Google the slow carb diet you'll find all sorts of success stories.
Why does this diet work?
You're never hungry. The goal for every meal is to eat until you're full. There's no starvation mode. No starving yourself. No counting down the seconds until your next meal. If you're just getting into the health and fitness world, I highly suggest that you start off with this meal plan. It's the easiest to follow.
Martin's helpful hints:
Egg whites will become your friend.
Enjoy your cheat day. Eat as much crap as humanly possible.
Keep it simple. It's just food.
Intermittent fasting.
The basic premise of eating here is that you have a daily fast of 16 hours and have an 8-hour eating window. Sleep is included in the fasting phase. During the 8-hour eating window, it's common to eat three meals.
Your largest meal should be your post-workout one. Carbs are also a part of the eating on training.
On rest days you eat less calories. You're supposed to cut down on the carbs and eat more fats. The first meal of the day should be the largest.
The originator of the intermittent fasting, Martin Berkhan, also stresses that the fasting phase is an opportunity to be productive, and not to just sob about the fact that you're not eating.
So instead of worrying about what to eat, you can focus on your tasks for the day. You're allowed to drink black coffee so that you don't totally deprive yourself.
Why does this work?
According to Berkhan:
"My research has indicated that the ideal state of fat burning is reached after 12-18 hours of fasting. Coupled with high levels of catecholamines, increased blood flow to stubborn regions, and low insulin for a2-receptor inhibition, this time interval is the "golden age" of stubborn fat mobilization."
Martin's helpful hints:
You have to push it through the first few fasted work outs.
Adjust the 8-hour eating window to your lifestyle, work schedule, and your body.
Get lots of sleep. The beauty of a solid rest is that it impacts your fasting phase as well.
Eat Stop Eat.
You eat as you normally would. You just take 24-hours off once per week. You have to fast one day a week. The logic is that this will create a calorie deficit. You literally do not eat for a 24-hour period about once per week. You just stop eating/consuming calories. You can perform the fast from any time.
For example, you can have a big dinner one day and then fast 6pm-6pm. Whatever works for you.
Why does this work?
According to the eBook:
"With Eat Stop Eat you are losing fat by doing nothing: not cooking, not eating, and not worrying about what you will eat when you're eating. In exchange, you spend a little time lifting weights (which you should be doing anyway for the health benefits of exercise itself) and trying to be somewhat responsible on the days that you are eating."
You don't have to stress about working out more or adding insane workouts to your routine. You just stop eating for 24-hours.
Martin's helpful hints:
Distract your mind so that you don't go crazy. Your mind will play tricks on you. You're going to be constantly thinking about food. The goal is to stay busy. Find a book, read blog articles (hint hint), or talk to a friend.
Eat if you get too dizzy or too weak. The goal is to lose fat, not die.
Pretend that the fast never happened. It's too tempting to end a fast with a poutine or some crap.
Try this strategy before or after a cheat day. After drinking all night it's common to go feast on burgers and pizza until you can't move. This is usually the best time to try this fast. After dumping booze and crap into your body, it's going to be very easy to stop eating for 24 hours.
Warrior diet.
This is the diet that I've been playing around with recently. I simply love to eat in the evenings and it's when I usually go out for social gatherings. You rarely see buddies meeting up for a feast at breakfast. Most of my friends aren't even awake that early.
This diet allows you to munch throughout the day and then let loose in the evenings. It's an amazing excuse to plan for daily feasts. I love my chicken and veggies, especially when hungry.
There are 20 hours of undereating. Like a warrior you can munch on almonds or fruits to get through the day. Then in the evening you have a feast that can last up to four hours.
Why does this eating cycle work?
You go to bed satisfied. You get to feast. You eat a little throughout the day so that you don't snap. Then you get to enjoy your feast in the evening.
Martin's helpful hints to making this work:
You must remember that just because it's a feast, it's not an excuse to eat crap food. You shouldn't let Harvey's sponsor this feast.
Try to load up on almonds and whey protein. You're allowed to have some almonds here and there along with a scoop of protein.
You can eat live foods during the day.
You can even read about my experiment with eating for four hours daily.
Please remember that consistency is key. The first few days your body won't know how to react. You might feel low on energy, be stuck on the toilet, or just feel like ordering a pulled pork poutine. You have to stick with it.
Change WHEN you eat and see what happens. That's how you set an intermittent fasting schedule.