You can look freaking amazing without spending another second in a filthy gym where you have to wait forever just to use anything. You also don't have to be around assholes when you train.
The world is your gym. You don't have to spend any money on a gym membership. You don't have to put up with a bunch of bros blasting their tunes assuming that we all want to hear their shitty songs.
A devesating new theory is out.
The other day the park was packed with families, picnics, good times, drinks, and some fools working out.
Usually I engage in the drinks and good times (wink wink) at the park. Not this time. This time I was the training fool with the headband that should've stayed in the 80s.
I want to show you how you can get in an amazing workout session without spending money or time in a gym.
The park workout.
You don't have to go to the gym to train. The local park has all that you need.
Just so you don't think I'm lying about working out outside, I have proof for you!
Below you'll see me performing a one legged squat while looking like a tool, me trying to do a wide grip pullup (something I have always sucked at), and my brother Adrian busting out some pullups.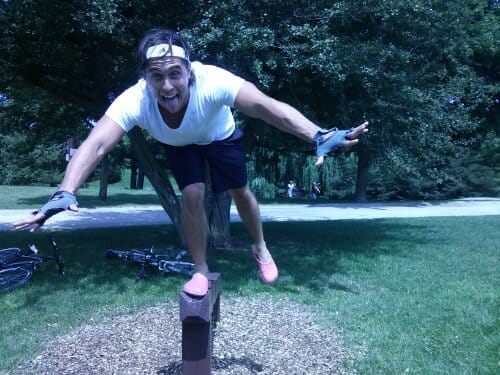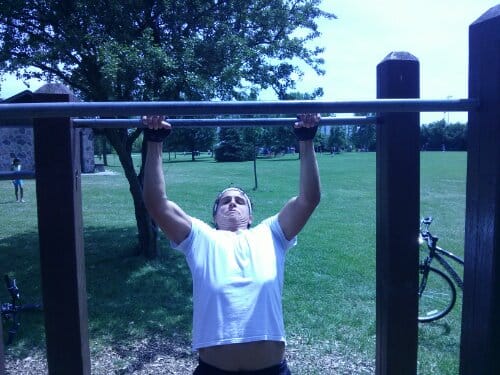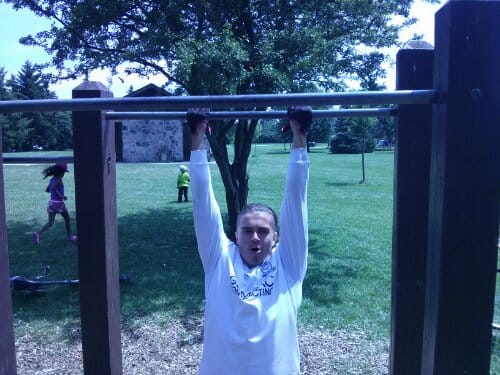 Despite looking ridiculously silly, I promise you that we c an all get a great pump in at the park.
What's the best outdoor workout?
I don't want to give one boring answer. I also don't want to limit you.
You should strive to perform any of the following exercises:
Wide grip pullups.
Chin ups.
Push ups (all the different kinds).
Jump squats (along with variations).
Hill sprints.
Walking lunges.
It all comes down to what you like. I don't want to set a generic framework for you. I don't want to limit you either. Some of you can bust out 15 pullups. Others, like me, suck at pullups.
So try this kick-ass park routine that will make you look like sexy monster:
Take 20 minutes.
Warm up with jumping jacks and a little jog.
If you can bring your kettlebell, then swing the shit out of that bad boy.
Perform every exercise until failure. Take a quick break. Go back at it. Go until the 20 minutes are up.
Pullups/chinups. Jumping squats. Walking lunges. Pushups. Swings.
That's all that you need. 20 minutes at the park and the willingness to get a little dirty. Eat clean, train dirty.
As you get better you get increase the time of the workout/decrease the breaks.
Oh, and if you own a kettlebell, you better bring that damn thing with you and add the swings in.
When you're ready– the 200 workout!
I wanted to share our favorite park workout. You have to build up to this one.
You start off at home with some kettlebell swings to warmup. Then you ride your bike to the park. Then the 200 workout begins.
What is this insane routine? It's 200 reps.
50 reps of body weigh squats.
50 dips.
50 pullups or chinups.
50 pushups.
Boom!
Of course, you don't have to do this in one shot. You can take as much time as you need. You can also stop if you're in tremendous pain. It might take you a while to hit this.
How can I change up this workout?
Thanks for asking. I don't want you to ever blindly follow fitness advice. That's lame.
So let's make this workout a little tougher:
Squats turn into one legged squats (the stupid looking thing I'm doing in the picture).
Try jumping squats where you jump up high or try jumping on benches.
Elevate your feet when busting out pushups.
Kill the breaks.
Go slower so that you feel the burn.
What about keeping track?
I've suck at keeping track of everything (from my real name to how much I'm eating).
There's no time to write everything down. I don't want you to miss a workout because you forgot to track your previous number.
Also, here's something no other fitness writer will tell you:
I HATE WRITING SHIT DOWN!
The only thing I could track lately is how much I spend on food. I can't keep track of my workouts. I'm too busy actually working out!
You can set personal goals. You can increase the time of the workout. You can do whatever you want, as long as you never miss a workout. I don't care how hungover you are.
Can you train at home?
Totally!
You don't have to go to the park. It's just sort of freaking sweet.
It's just more fun to go out somewhere to train. Plus, you can meet some cuties and all sorts of characters when you step outside of your house.
Time for the important questions that are just killing you (no, she's not taken).
So now, I'm going to answer every little question for those of you that need to be offered the world in order to be convinced.
I already know that you're smart. You're not afraid of work. You just want to iron out the details so that you don't waste any precious time.
What happens when the workout gets easier?
You add weights. You go longer. You change the style of the exercise up. You go slower. You don't take breaks.
How does the kettlebell factor in?
You can easily bring your bell to the park. I usually do this, unless I ride my bike to the park. Imagine seeing some clown riding his bike down the street with this heavy bell in his hands as he tries not to fall?
It's the perfect tool for completing your workout. You can add swings in as your warmup. Then you can use the bell for your squats and lunges.
Wait until you feel the burn when you hold the bell over your head has you crush out walking lunges to failure. Boom!
Is the gym bad?
I actually love going to the gym. I just need to a break from it sometimes.
But I realize that there are those of you out there that would much rather prefer to train at home. You know, avoid the bros and know-it-alls at the gym. Some of you just don't like the wait times. Others totally despise the crowd.
What happens in the winter?
You spend $20 on a pullup bar and you swing more.
Final words of wisdom on this secret to training that we've just unveiled together.
Be as shameless as possible. Dress provocatively. Dress silly. Go topless. Have fun. Push yourself. Earn your meal.
What's next?
I'm guessing that you're ready to take on this workout. That's freaking sweet. If you want to feel even better, you need to grab my free guide on how to live forever.
You leave your email below, and I send you a free copy of how you can live forever. The guide is all yours.