"Life is like playing a violin solo in public and learning the instrument as one goes on." — Samuel Butler
Are you sick of lame fitness advice that you find in magazines? Don't you hate following strict fitness-related rules? Are you fed up with being miserable? Welcome to Kettlebell Rebels, where vodka is okay and the world is your gym!
[Read more about my journey into pro wrestling!]
My name is Martin Dasko, and I'm the life of parties that I don't even attend!
I believe that the world is your gym and that you have it in you to look your best, feel your best, and be on top of the world. I also enjoy getting silly!
If you're ready to feel your best, perform at your peak, and conquer fear, then you've come to the right place.
If you prefer to run from your problems or if you want to be a coward, well then, you can leave and make space for someone else.
Who's Martin and why should you listen to him about this crazy world of fitness? Who am I?

Why the need for Kettlebell Rebels? Why join the Swinger Cartel?
The enemy here is mainstream fitness knowledge that we all feel like we have to follow.
We are here to treat the world like our own personal gym. We are going to look amazing naked and feel on top of the world.
We will try unconventional strategies. We will have fun. And most important of all, we will never ever feel deprived.
Fitness isn't about feeling miserable, drinking raw eggs and having no friends.
We are going to hang out with our friends and be the life of the party. We're not here to be miserable and bring each other down.
We will try conventional training programs. We will also think outside the box. We are going to push each other.
We might even offend each other once in a while!
Why the hell should you care about what I have to say?
Who have I helped get in shape?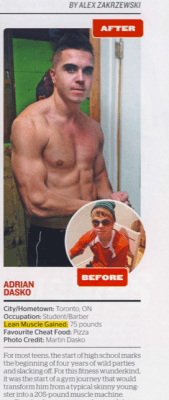 My younger brother who weighed more than me by the time he was turned 16 (despite being 9 years younger).
Friends.
Co-workers.
Strangers at the gym.
How do I help these people? With accountability.
No excuses are accepted. I don't care how sad or heartbroken you are. We are going to train.
You're in my world when we train together. I've been writing about all sorts of other random topics on the Internet since 2008!
I've been writing about finance forever. This is my first ever venture into the rapidly evolving world of personal fitness.
Are we going to deprive ourselves here? Not at all. We are going to train, drink, party, look amazing, and be on top of the world!
How sexy do you want to look? I love feeling damn good about myself. People often view me as arrogant. I'm really not. I'm just proud. I take pride in training and looking my best.
How did I start working out? Where did it all begin?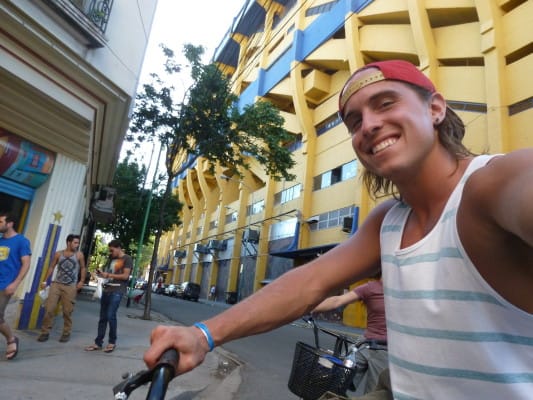 That's me riding my bike through Argentina and ditching the Canadian winter. I love my trips! I started training in grade 10. I'm now 29. I've worked out on and off for the last decade or so.
I've made all sorts of mistakes. I've done it all wrong. When I first started working out, I would just show up at the gym, play around with the machines and walk around forever. I had no clue what I was doing.
I also made the following mistakes:
Putting on too much weight.
Getting injured.
Training too often.
Being a "bro" in the gym.
Paying too much for memberships.
Oh and the worst training mistake?
I trained myself fat.
Yup. I used to go to the gym, use the machines, lift WAY too heavy, and then eat like a slob. Guess what? I got fat. Boo. Nobody has time for that crap.
I've likely tried every single workout routine out there.
What can I say? I GET BORED EASILY! So do my muscle. I did every bodybuilding split. I tried the fad workouts. I did the whole P90X thing. I've tried every workout in every new book. I've doing kickboxing and other types of mixed martial arts. I also tried kettlebells.
It was the kettlebell class that gave me the idea for starting an unconventional fitness resource. I showed up to the class thinking it was a joke. I woke up sore! I couldn't move for the days. I then opened my mind to other types of workouts.
We are going to explore all sorts of training programs on here until we find one that works for you.
That's my journey with fitness. What does your story look like? Oh wait, this page is about me. Whooo!
When did I get good at eating?
Well, that still hasn't happened! This is my home to keep myself accountable. I don't subscribe to one eating style. I've tried them all. I went vegan for a week. I've eaten nothing by meat. I swore by the fast food diet for a few months. I don't think I ever will get "good" at eating.
The good news is that I'm not afraid of experimenting with every single type of eating style out there.
A few more things about me…
This is me doing one of my favorite hobbies. Traveling.
I say what's on my mind. Sorry if you don't like it. I can be fake and tell you what you want to hear — or I can open your eyes and tell you how it really is. You see, there's a huge difference between where we are and where we want to be. We all want to be somewhere much further than where we are right now.
Where you are right now doesn't matter to much to me. It's where you're going to go and the journey.
I'll stop with the corny lines for now. I might text you late at night. I happen to be a night owl. I usually don't give up the ghost until the sun comes out. That's just how I'm wired. I text all of my friends with wild ideas in the middle of the night. So think about this before you give me your phone number.
I'm pretty damn amazing at cooking chicken and broccoli. Yes, that's my specialty. I'm boring like that. My life is wild enough. I try to keep my meals simple. I can eat the same meal for the rest of my life.